You've got a startup idea?
Congrats! You've just joined the queue of other wannabe entrepreneurs.
We see so many entrepreneurs who come to us with their product idea but don't even know from where to start.
"Ideas don't hold any value, execution does."
Your personal guesses and hunches are not enough. You need the strategic validation of your SaaS / Web / Mobile App idea before diving into its core development.
I admit, no entrepreneur start developing their product without validation. But think of it, if everyone does it right and hits the bull's eye, the failure rate of startups would be much lower.
Validation isn't a process of collecting some "YES & NOs" or "Will it work?" for your proposed SaaS startup idea.
In fact, the main motive of the strategic validation is -
Refining the product
Validating the customer persona
Finding loopholes in your idea
Evaluating better alternatives
And analyzing if there is a real need for your product in the market or not.
Finding real paying enthusiastic customers who are ready to prepay for your SaaS product is what we need to validate.
First, Build Your Mind For Right Validation -
For a minute, stop assuming that your solution or SaaS idea is foolproof. Just stop assuming this at least for the sake of the validation process. Assume you've got a wrong idea or solution for your SaaS product and then do the rigorous validation from there. Because if you only think that you've got the invincible idea, you will definitely start making loopholes.
Don't take your friends and family members by heart, they usually say it's a good idea.
Most entrepreneurs do it this way - they set up a landing page for their pre-production SaaS product and start driving traffic to the page via ads. And what they capture is "emails".
I admit email is a currency in our world, but getting their emails isn't assuring that they will buy your product once you launch it.
Instead, what you should do is set up the landing page but not for the MVP instead for the MVO (Minimum Economical Viable Offer). When a user is convinced to pre-pay for your offered product which isn't being developed yet is called a Minimum Economical Viable Offer. Then you will get the right validation.
This will separate "lukewarm interest" v/s "real buying intent"
When ten people say they'll give you money if you build this thing, that's the only validation that counts. – Jason Cohen, WP Engine
Tip: you can ask the users to save their credit cards without getting billed right now. That way you'll get a list of real interested customers for your upcoming SaaS product. Which I think is the better validation than just email optins.
You will never want someone to land on your landing page from those expensive advertising campaigns, who end up throwing their junk email in exchange for your "Free Signup" product.
"Create the SaaS product that people love, life is too short to create worthless things"
So How Should You Do The Validation
I would suggest you break the validation process into two phases - Idea Validation and MVP (or what I say MVO) Validation.
Idea validation:
1) Do the patent check
You are excited to develop your product, you think your idea is unique.
But don't forget to do a quick patent search for your SaaS idea, check if it's already taken.
You will never want to get sued for your own product. Google Patents is a good place to do a quick search.
2) Identify competitors
It's not a big job to identify your current competitors. There are plenty of ways to hunt them down on the internet.
Google your industry or keyword and you would get a number of companies right in front of you. In fact, most of them would advertising to get in front of you.
Go to Crunchbase or Angel.co and type your competitor's product and you'll get some decent information about them. Including their current and past investments.
If your product is more like a CRM or some sort of software, then Capterra, GetApp, G2Crowd, PCMag would be quite helpful in identifying your competitions.
3) Check if it's a trending or drowning idea
Check how the Trend is changing.
Suppose you are building an email autoresponder SaaS product. And you want to see if the people are talking about it or not. Whether the trend is going up or down.
Head over to Google Trends and put your product idea. Like, "Email autoresponder" in the search bar and you'll get a chart telling you if it's going up or down right in front of you.
You can also compare two or more distinct or similar industries like, "Email Autoresponder" V/s "Email Automation".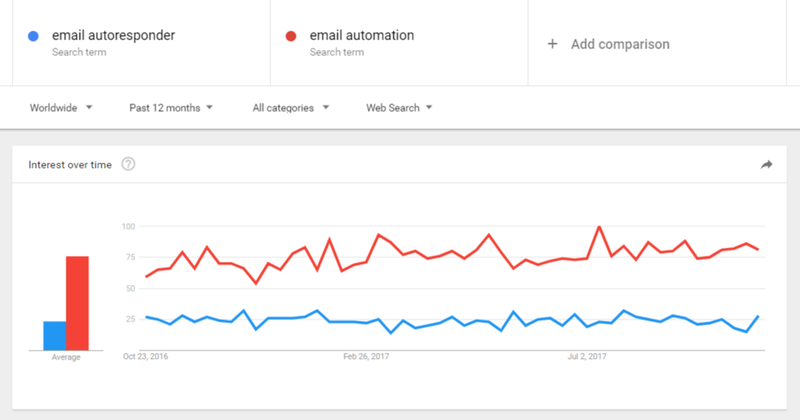 4) See if you have a decent audience size to sell or not
Keyword Planner helps you identify the number of searches a particular keyword is getting on Google. It also helps in getting a glimpse of whether your SaaS idea has a pool of potential customers or not.
Go to Google Keyword Planner, put your keyword and BAM! You've got the numbers telling you if you have some target audience on the internet or not.
5) Can you do it faster, cheaper and better
The internet doesn't need another ordinary product. People don't switch their service providers every other day unless something better or cheaper is offered. Also, you can't steal your competitor's customers without offering them something better.
So you need to identify opportunities and gaps that you could fill with your product.
Let me suggest you some ways to identify the possible opportunities.
Go to your niche review sites like GetApp for SaaS software products. See, what people are talking about in reviews on your competitor's product.
Quick Tip: Filter out the 3-star reviews. Most of the time those are most critical reviewers with lots of constructive suggestions and complaints.
6) Complaints are your opportunities
Like the previous strategy. Know what are the issues that your potential customers are facing. Head over to the review aggregator and software comparison sites and browse through the critical reviews. If possible try to get in contact with your competitors' fed-up customers to discuss more.
Tip: Offer them free subscription in your beta testers group.
7) What technology you should use to make it better
Spying on your opponents is the most fun task to do.
There is an old school tool to spy on a website or app's technology, BuiltWith.
Let's say you want to spy on Airbnb's technology. Here are the technologies Airbnb using on their Web App.
8) Talk to a sample group of people
If you have a sample group of people for your upcoming SaaS product, call them up or meet them in person and ask what they love or hate about the solution you are providing to them.
Usually, they tend to be polite and generous towards you and will give you positive replies. But don't let them be too generous and ask if they would like to pre-order your product. That's the time when they will start giving you many critical opinions. Because Money Matters ;)
9) Serve your upcoming product in the best possible way
You can't always convey your thoughts in words.
You may have heard this before - "A picture is worth a thousand words".
And if that picture is an animated explainer video, that's Bull's eye!
Tim Ferriss in his book "4-Hour Workweek" also mentioned building landing pages for your product even if it hasn't been built yet. Drive traffic to that page and gauge how many visitors sign-up for "notify when available".
Try implementing Qualaroo pop-up app to encourage the visitors to sign-up or take part in your validation survey.
10) Drive targeted traffic
Driving targeted traffic to a product landing page is a whole different project in itself.
These are some organic i.e. no cost sources of targeted traffic:
Targeted Facebook Groups
Twitter Search
Linkedin Groups
Niche Forums
And if you are open to run some targeted advertising traffic -
Try:
Facebook Ads
Twitter Paid Promotions
Quora Advertising (Untapped and unabused)
Google Ads
I will not suggest you run Linkedin ads at this stage of validation because it will cost you a lot. Though it's a targeted stream of traffic.
11) Email potential customers
Elon Musk did cold emailing to get the attention of bank executives for an internship. Back when he was a twenty-something job seeker.
Cold emailing is a controversial part of internet marketing from the very beginning of marketing. But it is one of the most impactful marketing stunts if done correctly and with care.
You can start a cold email drip campaign on your targeted potential customers. Don't hit them out of the blue and ask them to pre-pay you for a product that has not even been built yet. Instead, ask what problem they are facing with their current SaaS service provider or what feature they would like to suggest.
Tell them, you would like to invite them to try their upcoming product and it's a premium invite solely for them.
MVP (or MVO) Validation
1) Define metrics for success
'Cause without knowing your success metrics, you will never know if you are doing it right or not. Moving in the right direction and at the right pace is crucial at these early stages. So, knowing your success metrics is a must while validating your startup or business idea.
2) Define your customer persona closely
Defining the customer persona should be the number one step in MVP validation because if you don't know who is your target audience, you will definitely do it wrong.
There are many techniques to build and define the customer persona for your SaaS product.
Facebook Audience Insights - If you haven't leveraged the Facebook audience tool before, then you should (though you need Advertising account).
Put your opponent's product in the interest field and see how's their demographic looks.
Analyze your prospects' interests like purchase behaviour and brand affinity -
And their relationship, education and job statuses as well -
Pro Tip: Use a lookalike audience in Facebook ads to target the lookalikes of your beta users.
Use Your Instinct - You are building a product for an audience, which means, it's you who can better identify the audience for your product. Just sit down with a calm mind and fill the buyer persona carefully.
Reverse Engineer - Backtrack and study the users of your opponents from software review aggregating sites like Capterra.
3) Product Goals
Define your goals and evaluate if you are meeting those goals with your MVP in hand. Try to make the MVP as close as possible to the final product.
4) Document your assumptions
Document the assumptions you have made or collected throughout the validation process. In the end, it is the data that tells all the whole story.
5) UX hypothesis
You can't predict the experience your users are having on your SaaS app. Analyze each and every interaction/event of the users inside your app. There are plenty of tools and tactics to track user behaviour on an app. Heatmap, button clicks, scroll depth are some of the events that you would want to track and build the hypothesis upon.
Track -> Document -> Analyse -> Optimise
6) Features required to sell the product
The features you are thinking are good, might not be enough for it to sell. You need to listen to your beta users and try to include the features they are suggesting. After all, they are your sample customers and ultimately they will be the ones who buy and use your product.
Pen down what the beta users/testers suggest.
7) Build a landing page that converts
Publish a conversion-optimized landing page that explains your product and drives the users to beta signup.
You can include an animated explainer video on this MVP landing page as well. And start promoting this page to reach the targeting audience.
8) Stay Motivated
Jack Ma was buying stuff from his own startup 'Alibaba' when no one else was buying.
How To Bring The Idea Out Of Your Mind - Sketch and Build Mockups:
If you have the idea in mind and want to get it out and make it a reality. Sketch it! Build some mockups before going to your SaaS development agency [By the way we do develop SaaS and mobile apps for startups and business enterprises.]
Create a sitemap of the product - Building a sitemap prior to the development is a good approach of defining each and every feature of the product. It gives a well-planned layout for the development process.
Use a pen/pad to sketch the interface - The best of the best ideas don't come to the mind while viewing your laptop screen. I would suggest you do the interface sketching with the old-school pen/pad technique. Put your laptop aside, sit down for a minute and craft your sheer imagination on the paper.
Use Balsamiq, Proto.io (for mobile) or services like Invisionapp to connect the flat designs so that the user can click/tap on the buttons and transition from screen to screen. It provides a 'real enough' experience to the early users of your SaaS app.
Summary
Make up your mind for validation. Try to validate the product for MVO instead of MVP.
Before starting your idea validation, do a patent check to see if you are missing or violating someone else's idea.
See if there is enough demand for your product in the market. Identify your competitors. What they are doing. And see if there's some gap that your product can fill.
Make your buyer persona and define product goals you would like to achieve. Gain some beta testers/users to test your MVP and collect some constructive feedback.
Build an explainer landing page of your product and drive targeted traffic to it. Convert and optimize the page.
Hope you like the guide and get some useful actionable advice out of it. Stay motivated and keep the hustle on!
So, what's your startup idea you want to validate? Leave a comment or shoot me an email at azman@webisoft.com! Would love to hear from you.